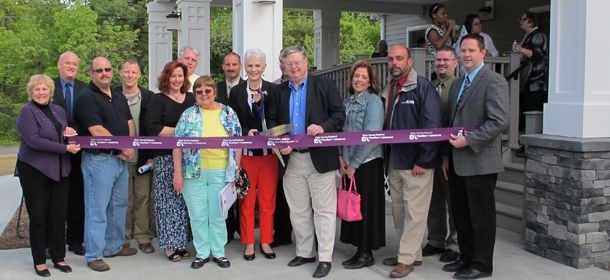 Phone: (845) 339-9090 ext. 7002
The Residential Program fulfills the mission of providing a supportive place to live in which individuals, recovering from mental illness, will be encouraged to achieve their self-defined potential.
Residential Services consists of a seven day, 24 hour staffed Tuytenbridge Road Training Apartment Program (13 beds), two supportive apartment programs (Locust Street - 14 beds and Scattered Site - 12 beds), and a Supported Housing Program with 39 units. The training apartment program and supportive apartment programs are voluntary, transitional, rehabilitative residences. The Supported Housing provides some case management, assistance with activities of daily living and financial subsidies for residents who live independently.
Residents are encouraged to participate fully in the program and in setting and evaluating their program goals. Residents meet regularly at each program site to discuss issues and interests with each other and with the staff. Services provided may include counseling in such restorative service areas as budgeting, socialization, medication management, community integration, parenting training and substance abuse issues, to name a few. Residents are supported in developing those skills, which would enable them to live more independently within the community.
Residents often attend Pottery and Art Classes, go to the YMCA, and participate in weekend outings both with the Residential Department and Coping Skills. Residents are proud to display their work at art sales and shows throughout the year at the Clifford Beers Center.
The Supported Housing Program continues to operate at almost 100% occupancy rate. Individuals live in their own apartments and homes, and MHA provides case management services and a rental stipend. This program is the most sought out program in the department and usually has a minimum of a twelve month waiting list. Because of the increase of individuals needing case management service, the program also employs a part-time counselor to assist the Site Supervisor in providing services. These 39 units are scattered throughout Ulster County.
Tuytenbridge Road Training Apartment Program is a 13-bed co-ed transitional residence located in Lake Katrine, NY. The program provides around-the-clock staff supervision. All of the residents have a mental illness, and many have a co-occurring substance abuse history. Referrals for this program are generated from HealthAliance, the ACT Team and UCMHD. The average length of stay is around 2 years.
Locust Street Apartment Program is a 14-bed co-ed transitional program currently located on Locust Street in the Town of Ulster. The apartments are occupied by 3 or 4 adults who have a mental illness. Many also have a co-occurring substance abuse history. Staff is available for support with medication supervision, budgeting, grocery shopping, and other needs for 13 hours a day. The average length of stay for this program is typically 1 year.
Scattered Site Supportive Apartment Program (SAP) is a twelve-bed program located in four, 3-bedroom apartments in Kingston. This program provides services to men and women with a mental illness and, at time, a secondary substance abuse history. The average length of stay in this program is about 18 months.