Matters Helping All Parents – Suicide Prevention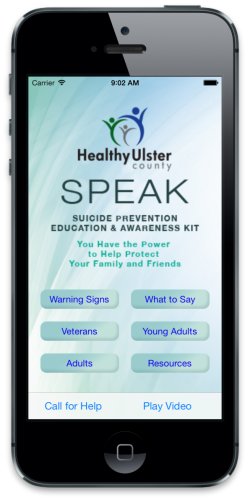 Thanks to the leadership of Ulster County Executive Mike Hein the Ulster County SPEAK Ap is available on iTunes and Google play.
This is a smart phone app that helps users identify the warning signs of suicide and gives them options to get help.  This is yet another tool to raise awareness and help prevent suicide in Ulster County.
Click Here for Google Play Version
The SPEAK suicide awareness and prevention app is designed to help users easily access and recognize the signs of suicide in friends and family and get them the help they need, fast. It's not a substitute for professional diagnosis and treatment, but rather a "first line of defense" that offers people some solid information and useful tools that they can use to help someone they love make it through a difficult time. #MHAParents